Silos, Tanks and Vessels Cleaning
Our experience in cleaning all types of storage silos, tanks and vessels, means we are fully aware of the risks involved in working both at height, and also in confined spaces.
To alleviate the need for people entering one of the most hazardous areas in a facility, we added the Bin & Gyro Whip to our equipment, which is suitable for applications in industrial, agricultural and commercial environments.
The Gyro Whip is operated remotely from the silo roof, and materials are cleared using rotary cutters or brushes, dependent upon the material to be removed. The motor is powered using compressed air, is completely manoeuvrable, and because it can be put together quite quickly, proves to be very cost-effective solution. The material simply falls to the bottom of the silo for easy removal by our Disab vacuumation process.
Bin & Gyro Whip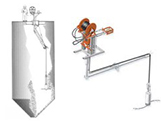 Silo, Tanks and Vessel Cleaning in Confined Spaces
In certain circumstances the Gyro Whip may not be a suitable option, for example, where there is a bridged blockage.
We have encountered a wide range of bridged blockages over the years and have the expertise and equipment to keep you on line and reduce production down time. In these scenarios we provide a cost-effective confined space silo and tank cleaning service anywhere in the UK with our dedicated confined space entry and rescue trained personnel.
We provide highly comprehensive method statements and risk assessments for each project.
Our client's needs remain at the heart of our service which is why we take the time
to fully understand your requirements.
To do this we offer a free site visit and consultation service.
Call us on 01724 279007 to arrange.